Universidad Politécnica de Madrid (UPM) offers the Master in Digital Innovation: Human Computer Interaction and Design (HCID), one of the nine international technical programmes within the Master in ICT Innovation organized by the EIT Digital Master School in collaboration with 20 top European Technical universities.
EIT Digital Master School
EIT Digital Master School is an exclusive collaboration between the best technical universities in Europe, supported by top research institutes and leading business organisations. EIT Digital Master School offers a two-year education in which students choose two universities in two different European countries, building a curriculum of their choice based on their skills and interests. The Master School offers double degrees which combine technical competence with skills in Innovation and Entrepreneurship.

Each technical programme includes a common technical competence base, which constitutes the curriculum for the first study year, and a specialisation that is the starting point for the thesis work during the second year.In addition, a Minor in Innovation & Entrepreneurship provides students with valuable knowledge on how to drive their innovations to the market. A basic course in Innovation and Entrepreneurship, two-week Summer Schools, and the Business Development Labs course are the vital parts of the Innovation and Entrepreneurship module.
By joining EIT Digital Master School, students are not just starting a master's degree programme, they are stepping into a leading European open innovation organisation that brings together a partnership of over 200 top European corporations, SMEs, start-ups, universities and research institutes. Students have the opportunity to collaborate with EIT Digital's industrial partners and bring innovation to the market as part of their Innovation and Entrepreneurship studies. Students are able to gain first-hand experience through the innovation activities hosted, managed and financed by EIT Digital. These activities focus on Europe´s strategic areas, like the digital industry, cybersecurity or wellbeing, to name a few.

MA Human Computer Interaction and Design (HCID)
The Human Computer Interaction and Design Master offers a unique academic programme, whereby students can study human computer interaction and design, innovation, and entrepreneurship at leading European universities. In this programme, students will learn about design and evaluation of interactive systems with a strong emphasis on user-centered design techniques: understanding the human capacities and consequences of using information technology as a tool for solving work related tasks, and developing and evaluating the systems by putting the user at the center of the design process.
The Master is a 120 ECTS programme, and you will be able to adapt the programme to your personal needs and interests:
The two-year Master has a special asset, which is geographical mobility. You will study in two prestigious universities in two different European cities: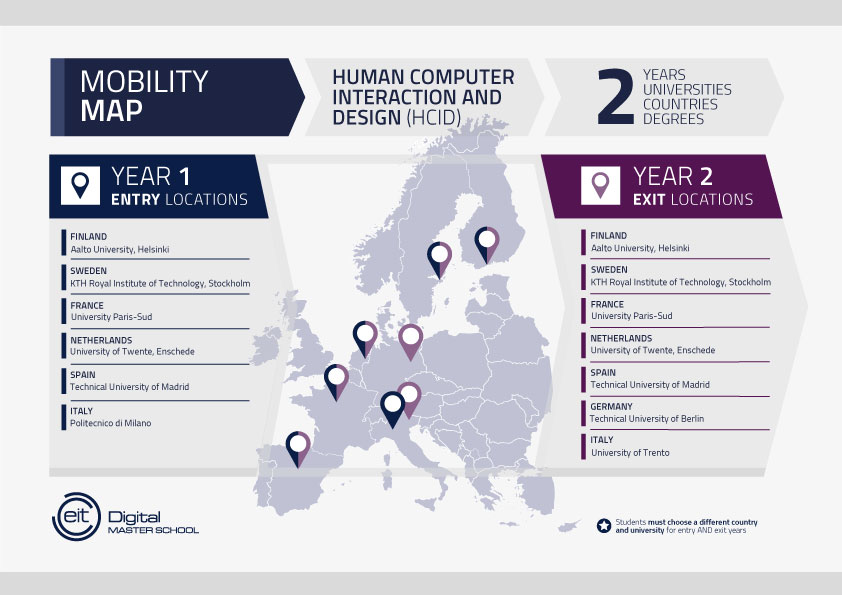 You will be awarded with a double degree, one by the first university (entry point) and the second degree from the second university (exit point), as well as an additional supplement certificate by the EIT Digital, which will mark the specific knowledge results in the fields of innovation and entrepreneurship.
Career Prospects
The Master's education will provide you with a strong technical entrepreneur education. You will have the option to work closely with some of the top multinational companies in partnership with the EIT Digital, they will give you training in real projects, as well as mentoring to start your own business, valuable practical experience, and help you to develop your entrepreneurship skills.
Graduates from the HCID master's programme will qualify for jobs in international and local organizations in both technical and business roles. Typical titles are:
interaction designer or user experience designer,
interactive systems engineer,
human factors expert,
usability engineer,
business developer,
product manager, or consultant.
Specialization in Accessible and Adaptive Interaction, at UPM
UPM has a leading role in Human Computer Interaction in Spain, with research groups that are internationally recognized in the fields of Accessibility and Inclusive design, Integration of Usability Techniques into the Software Development Process, Intelligent educational software and Student modeling, Virtual and augmented reality. UPM is also active in the development of international and European standards on HCI and accessibility, such as ISO 9241-171 (software accessibility), ISO/IEC 29136 (PC hardware accessibility), ISO 9241-129 (individualization) and EN 301 549 (accessibility of ICT for the context of public procurement).
The School of Computer Science at the Universidad Politécnica de Madrid (UPM) offers a specialization in Universal Design of Interactive Systems. In the context of interactive systems, accessibility can be defined as the usability of a product or service by people from a population with the widest range of characteristics and capabilities, including persons with disabilities and elderly people. Even if the user-centered design process guarantees a certain degree of personalization of the interaction, dynamic system adaptation should also be addressed in order to react to changing conditions. Universal Design implies taking into account the diversity of sensory, physical and cognitive abilities of the users of the system. Some users will have limitations in their abilities, which may be permanent, temporary, situational or contextual.
The usability-based concept of accessibility implies that designers should work for reaching adequate levels of effectiveness, efficiency and user satisfaction across the diversity of users. To reach good accessibility a combination of two approaches is required: design for all and assistive products. Design for all, also known as inclusive design, is the design of products to be accessible and usable by all people, to the greatest extent possible, without the need for specialized adaptation. But design for all is not always enough, as some persons with disabilities require specific adaptations to be able to use ICT. These adaptations are called assistive products, which are any product (including devices, equipment, instruments and software), especially produced or generally available, used by or for persons with disability for participation; to protect, support, train, measure or substitute for body functions, structures and activities; or to prevent impairments, activity limitations or participation restrictions.
The whole spectrum of adaptation possibilities, from adaptable to adaptive systems will be considered in this specialization.
Application Dates
Check application dates.

2020-21 Academic Year
2019-20 Academic Year